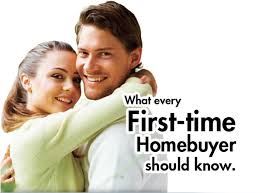 Buying your first home can quickly become one of the most stressful things you will ever do if you are not prepared for it. But if you are diligent and do your homework you will know what to expect and be able to avoid these and other common pitfalls.
A)Shortage of funds at closing
B)Choosing the wrong loan
C)Buying too much or not enough home
D)Buying a money pit
The very first task you should undertake before actually looking at homes is to decide what you want in a home. Make a list in order of importance. Depending on your needs and lifestyle, a few things may be non-negotiable, such as the number of bedrooms, whether or not there is a bathroom directly off the master bedroom, location of the home, a garage, etc. Later, when you begin to look at houses which are for sale, you may discover things that you had not thought of that you may want to add to the list.
Next, you will need to figure out how much you can afford to pay for your home each month. Find a mortgage calculator and other tools & tips at http://www.ryanrustrealestate.com Most people count on the false assumption that, except for the down payment, buying a home is less expensive. While the actual mortgage payment itself is usually not as much as a rent payment, there are many other expenses added into a house payment that must be taken into consideration. We will discuss these later in this article. For now decide the monthly amount you are comfortable paying each month. If you are making a rent payment each month right now, is this payment comfortable for you, or is it stressful to come up with that amount each month? If it is a stretch, you will want your housing payment to be lower. If you are comfortable making your rent payment, are you still able to save money each month for an emergency or repairs? If this has not been possible, you may need to look at moving somewhere with a more affordable rent payment; so you can begin to save up for your new home purchase.
Once you have looked at your finances and decided how much you can realistically pay each month, it is time to start looking at homes, right? Wrong! Now it's time to get "prequalified" for a mortgage. This involves selecting a mortgage lender who can help you pick the best loan for your needs and wants. Prequalification is basically a lenders statement that you can afford to buy a home of up to a particular dollar amount. It is usually a good idea to look at buying a house that is a little less than what your pre-qualification says you can afford.
Prequalification usually involves providing your lender with evidence of your monthly and annual income and having them perform a check of your credit record. They will then plug these numbers into a formula, taking into account how much you have for a down payment. This formula may show that you can afford a loan with a certain monthly payment somewhere between 28-33% of your monthly income, depending on the lender and your credit score. This prequalification can seem a little daunting but is fairly simple and quick with an experienced lender.
Most traditional loans require a down payment of at least 3%. Some properties and buyers qualify for 100% financing. Information on Low & No Down Payment Options for 2015 can be found at http://themortgagereports.com/11306/buy-a-home-with-a-low-downpayment-or-no-downpayment-at-all With all the different mortgage loans available today, don't hesitate to lien on your lender and realtor for guidance in selecting the right mortgage for you.
Once you are prequalified for a mortgage, selecting an experienced Realtor to perform searches and help with evaluating and negotiating is a must. Ask around to see if your family or friends can recommend a Realtor that they have enjoyed working with. Remember there is no cost for using a Realtor for the buyer. The Realtor is paid out of the proceeds that the seller will receive at closing. When two realtors are involved, they split the realtor's fee which is paid by the seller.
Once you have found a home you like and are ready to make an offer, your agent will walk you through the contract and offering process. After the offer is accepted, earnest money will be required to make the contract official. This is usually five hundred to a couple thousand dollars depending on the list price of the home. Earnest money shows the seller and your lender that you are serious about purchasing the property. At closing the earnest money will become part of your down payment. A title commitment will also be ordered at the same time the earnest and contract are dropped off. The title commitment is of great importance because it guarantees that the property deed is clear of all liens and encumbrances. Or in other words the title to your new home will be clean!
Next it's a good idea to have the home inspected by a qualified home inspector. His job is to find any repairs which may need to be addressed on the home which you have overlooked. If there are major repairs needed a professional may be recommended for further review. For majority of purchases inspections can be completed for a cost of a few hundred to five hundred dollars. Your real estate agent can usually provide recommendation for reliable home inspectors.
The lender will select an appraiser to perform an appraisal to verify the agreed purchase price for the home is fair. The average cost is between $400-500 dollars which is normally paid for up front by the buyer. Most appraisals take one to two weeks to complete. The purchase can usually be completed within five to eight business days once the appraisal is completed and delivered to the lender. The buyer will also receive a copy.
Once you have officially closed on your dream home, you will find that taking the time to meet and select experienced professionals who can help you avoid these common pitfalls was well worth the effort.
Happy house hunting!
Ryan
ADDITIONAL EXPENSES
TAXES & INSURANCE
With every home you have property taxes and homeowners insurance. Most lenders require these expenses to be added on to the monthly house payment. This is referred to as your escrow and will need to be established at the purchase. All or part of your escrow and additional loan expenses can be paid for by the seller up to a specified % depending on your type of loan. You'll want to work with your realtor to negotiate this into the purchase if needed.
TITLE FEES
Title fees are typically split 50/50 between the buyer and seller. They range from four hundred to several thousand's depending on the purchase price. These costs can also be covered by the seller if negotiated for at the time of purchase.
PRIVATE MORTGAGE INSURANCE, PMI
The smaller the down payment the more likely you will be required to obtain mortgage insurance which pays the lender if you default on the loan. There are some loans that make an exception to this rule. You can find more information on PMI, Private Mortgage Insurance here
http://www.zillow.com/mortgage-rates/buying-a-home/mortgage-insurance-and-pmi/
HOME OWNERS ASSOCIATION, HOA
HOA fees are usually found in newer & more established neighborhoods. They range from less than $100 to several hundred depending on the neighborhood and homes within. The fee is usually paid annually or semiannually by the home owner.